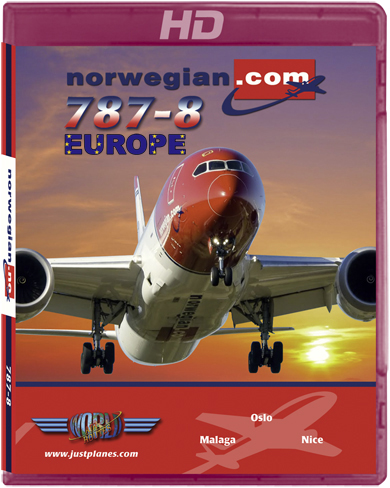 CODE : NAX6

FILMED : 2017

TIME : 268 mins

PRICE : $30
Just Planes is thrilled to be returning to Norwegian for the 6th time. On the 787 we've previously produced programs to Bangkok and then Los Angeles. For our 3rd edition we featuring European routes from the Oslo base and the program is hosted by one of the airlines Training Captains. This allows us to go into some more details as far as the aircraft and the flying which a lot of you had been asking for. You still get all the regular views on takeoffs & landings, all the scenery and other normal features of our programs however in this one you also get more presentations and explanations by our 2 pilots which a nice bonus.
Just Planes has been filming flights into Nice for about 20 years on many airlines however this time we got extremely lucky into getting the visual approach from the other side which overflies the city and beach before touching down, and as a bonus this happens at sunset. Very beautiful!
+ Cockpit filming using up to 6 cameras!

+ Flight Preparations

+ External Walkaround

+ Cockpit Set-up

+ Briefings & Checklists

+ Depature & Arrival Airport Charts

+ Great scenery.

+ Exceptional Visual approach into Nice

+ Pilot Presentations

Other

Norwegian

Programs
Please be very careful when selecting which Download you order as this can NOT be changed!!!
Click here to read more about the different Download options!
Flight Information

A/C

Reg

Flight

Route

Flt Time

Destinations

787-8

LN-LNG

DY1802

DY1803

OSL-AGP

AGP-OSL

3h24

3h30

OSL Oslo,NORWAY

AGP Malaga, SPAIN

787-8

LN-LNB

DY1406

DY1407

OSL-NCE

NCE-OSL

2h44

2h24

OSL Oslo,NORWAY

NCE Nice, FRANCE