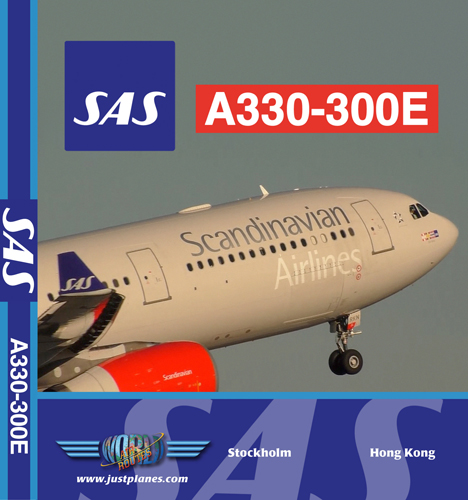 CODE : SAS5

FILMED : 2018

TIME : 270 mins

PRICE : $30
Welcome to our 5th SAS film featuring the A330-300E (Enhanced) and our 1st flight to cover one of the airline's Asia routes. The 4h30min program is hosted by Captain Per de la Motte, a veteran pilot of the airline with 35 years experience so you are in for complete explanations and presentations about the aircraft, the flight, route, cockpit, instruments, arrival/departure procedures and a lot more!
+ Cockpit filming using 7 cameras!

+ Flight Preparations

+ External Walkaround

+ Cockpit Set-up

+ Briefings & Checklists

+ Cockpit Presentation

+ Differences between A330 and A330E

+ Depature & Arrival Airport Charts

+ Great scenery on departures, arrival and en route.

+ Pilot Presentations

+ Views of Hong Kong
Other SAS Films
Please be very careful when selecting which Download you order as this can NOT be changed!!!
Click here to read more about the different Download options!
Flight Information

A/C

Reg

Flight

Route

Flt Time

Destinations

A330E

LN-RKT

LN-RKS

SK963

SK964

ARN-HKG

HKG-ARN

9h46

10h57

ARN Stockholm, SWEDEN

HKG Hong Kong, CHINA