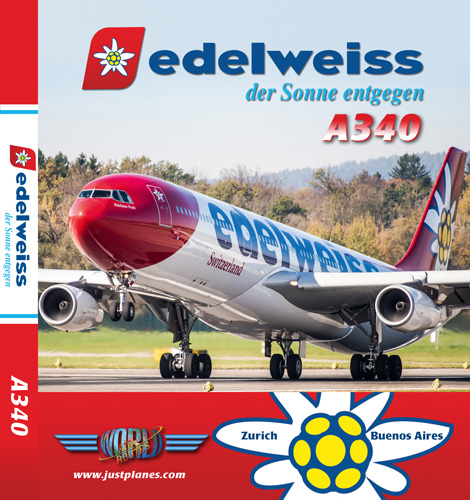 CODE : EDW4

FILMED : 2019

TIME : 217 mins

PRICE : $30
After filming Edelweiss long haul Airbus routes to Africa, Asia and North America we're happy to return to the Swiss airline for a great flight to South America. This time we fly the Airbus A340-300 roundtrip from Zurich to Buenos Aires. As always you get all the pilot information, presentations, briefings, checklists and a lot more including a very interesting departure in Zurich where the crew is forced to recalculate the figures seconds before takeoff and switch runways.
+ Cockpit filming using up to 6 cameras for

great views on takeoff & landing!

+ Flight Preparations

+ Cockpit Set-up

+ Briefings

+ Checklists

+ Cockpit Presentation

+ External Walkaround

+ Depature & Arrival Airport Charts

+ Great scenery

Order the newest Edelweiss Cockpit Film and you will automaticall receive a 25% discount on the other 3 Edelweiss programs in your shopping cart!

Other Edelweiss

Cockpit Films

- - - - -

A340 Cape Town

A330 Phuket

A330 Las Vegas
Please be very careful when selecting which Download you order as this can NOT be changed!!!
Click here to read more about the different Download options!
Flight Information

A/C

Reg

Flight

Route

Flt Time

Destinations

A340-300

HB-JME

WK 090

ZRH-EZE

10h51

ZRH Zurich, SWITZERLAND

EZE Buenos Aires, ARGENTINA

A340-300

HB-JMF

WK 091

EZE-ZRH
10h56

EZE Buenos Aires, ARGENTINA

ZRH Zurich, SWITZERLAND