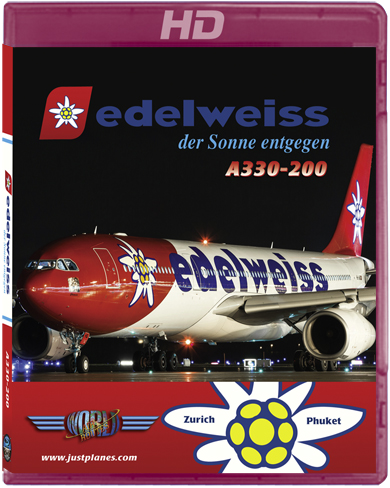 CODE : EDW1B

FILMED : 2014

TIME : 221 mins

PRICE : $30
We are delighted to welcome Edelweiss as the 250th airlines filmed in the World Air Routes/Flight in the Cockpit series! Edelweiss was founded in 1995 with one Douglas MD83 aircraft. Today the company operates a fleet of 7 Airbus A320/A330 aircraft to more than 50 vacation destinations around the world. The airline is part of the Lufthansa Group together with sister company Swiss International.
Our roundtrip flight from Zurich to the resort island of Phuket is hosted by Edelweiss Deputy Head of Flight Operations, with his copilot they take you through the entire process from their flight preparations at the operations office to all the duties they perform on the aircraft for this trip.
Please be very careful when selecting which Download you order as this can NOT be changed!!!
Click here to read more about the different Download options!
+ Cockpit filming using up to 6 cameras for great views on takeoff & landing!

+ Flight Preparations

+ Cockpit Set-up

+ Briefings & Checklists

+ External Walkaround

+ Depature & Arrival Airport Charts

+ Cockpit Presentation

+ Company Presentation

+ Great scenery in each direction

Edelweiss to LAS VEGAS
Flight Information

A/C

Reg

Flight

Route

Flt Time

Destinations

A330-200

HB-IQI

WK 050

ZRH-HKT

10h22

ZRH Zurich, SWITZERLAND

HKT Phuket, THAILAND

A330-200

HB-IQI

WK 051

HKT-ZRH

12h34

HKT Phuket, THAILAND

ZRH Zurich, SWITZERLAND