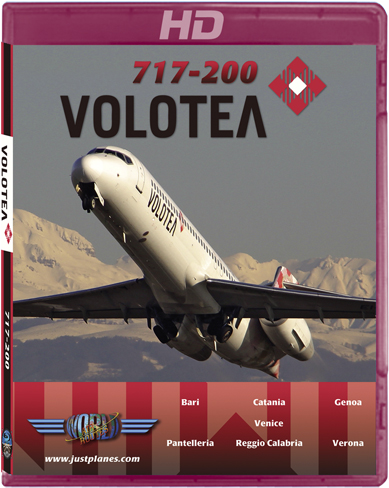 CODE : VOE1B

FILMED : 2014

TIME : 263 mins

PRICE : $30
Just Planes welcome Volotea, the 254th airline in our Flight in the Cockpit, to our series! This fast growing airline is one of only a handful of 717 operators in the world and we're delighted to feature them and this great aircraft! The airline's Flight Operations Director hosts 8 of the 12 flights in this film which is packed with many great pilot presentations and some exciting routes and destinations across Italy!
Please be very careful when selecting which Download you order as this can NOT be changed!!!
Click here to read more about the different Download options!
+ Cockpit filming using up to multi cameras for great views on takeoff & landing!
+ Pilot Presentations
+ Flight Planning by Dispatcher with crew briefing.
+ Flight Preparations
+ Cockpit Set-up
+ Briefings & Checklists
+ External Walkaround
+ Depature & Arrival Airport Charts
+ Cockpit Presentation
+ Great scenery across Italy
+ How to become a pilot
Flight Information

A/C

Reg

Flight

Route

Flt Time

Destinations

717-200

EI-FBJ

V7 1234

V7 1603

VCE-BRI

BRI-VRN

0h58

1h03

VCE Venice, ITALY

BRI Bari, ITALY

717-200

EI-FBJ

V7 1604

V7 1235

VRN-BRI

BRI-VCE

1h01

0h59

VRN Verona, ITALY

BRI Bari, ITALY

717-200

EI-FBM

V7 1264

V7 1708

VCE-CTA

CTA-GOA

1h20

1h31

VCE Venice, ITALY

CTA Catania, ITALY

717-200

EI-FBM

V7 1709

V7 1265

GOA-CTA

CTA-VCE

1h18

1h17

GOA Genoa, ITALY

CTA Catania, ITALY

717-200

EI-EWJ

V7 1248

V7 1249

VCE-REG

REG-VCE

1h20

1h16

VCE Venice, ITALY

REG Reggio Calabria, ITALY

717-200

EI-EWJ

V7 1240

V7 1241

VCE-PNL

PNL-VCE

1h28

1h23

VCE Venice, ITALY

PNL Pantelleria, ITALY