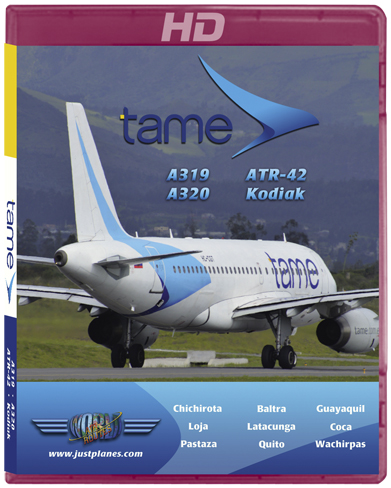 CODE : TAE1

FILMED : 2015

TIME : 230 mins

PRICE : $30
TAME, founded in 1962, is Ecuador's flag carrier and the largest airline in the country. We're delighted to welcome them as the 259th airline in our series!!
This program will show you the airline's operation around Ecuador as well as the beauty of this county from the Galapagos Islands, Ocean, mountains and cities as well as right in the amazon as we also feature Tame Amazonia and our first ever filming of the Quest Kodiak 100.
Please be very careful when selecting which Download you order as this can NOT be changed!!!
Click here to read more about the different Download options!
+ Cockpit filming using 6 cameras for great views on takeoff & landing!
+ Company Presentation by the airline's CEO
+ Pilot Presentations
+ Briefings & Checklists
+ Approach chart presentations to various airports
+ External Walkaround
+ Fantastic scenery
Flight Information

A/C

Reg

Flight

Route

Flt Time

Destinations

E-190

HC-CGG

EQ 147

EQ 146

UIO-LOH

LOH-UIO

0h52

0h50

UIO Quito, ECUADOR

LOH Loja, ECUADOR

A319

HC-CMO

EQ 191

UIO-GYE

GYE-GPS

0h32

1h41

UIO Quito, ECUADOR

GYE Guayaquil, ECUADOR

A320

HC-CGQ

EQ 192

GPS-GYE

1h38

GPS Baltra, ECUADOR

GYE Guayaquil, ECUADOR

ATR-42
HC-CMH

EQ 101

EQ 103

GYE-LTX

LTX-OCC

0h46

0h45

GYE Guayaquil, ECUADOR

LTX Latacunga, ECUADOR

ATR-42
HC-CMH

EQ 104

EQ 102

OCC-LTX

LTX-GYE

0h40

0h41

OCC Coca, ECUADOR

LTX Latacunga, ECUADOR

Kodiak
HC-CPG

PTZ-CHT

CHT-PTZ

0h35

0h35

PTZ Pastaza, ECUADOR

CHT Chichirota, ECUADOR

Kodiak
HC-CPG

PTZ-WAC

WAC-PTZ

0h35

0h35

PTZ Pastaza, ECUADOR

WAC Wachirpas, ECUADOR