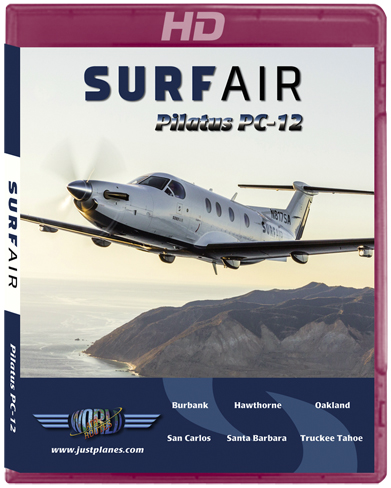 CODE : URF1

FILMED : 2015

TIME : 158 mins

PRICE : $30
SurfAir,based in California, is the US' first private air travel club offering unlimited monthly flights to its members. The airline currently operates 90 flights a day using a fleet of 9 Pilatus PC-12s, it has 12 more aircraft on order and options on 50 more!
This program is a great opportunity to discover the airline, its pilots, fly the wonderful PC-12 and take in the beautiful sights of California from the LA area, San Francisco, Santa Barbara, Lake Tahoe etc..
Please be very careful when selecting which Download you order as this can NOT be changed!!!
Click here to read more about the different Download options!
+ Cockpit filming using multi cameras for great views on takeoff & landing!
+ Cabin filming
+ Company Presentation
+ Pilot Presentations
+ Briefings & Checklists
+ Cockpit Presentation
+ External Walkaround
+ Fantastic scenery around California!
Flight Information

A/C

Reg

Flight

Route

Flt Time

Destinations

PC-12

N805SA

URF 201

URF 109

BUR-SQL

SQL-TRK

1h06

0h48

BUR Burbank, CA. USA

SQL San CARLOS, CA. USA

PC-12

N805SA

URF 110

URF 202

TRK-SQL

SQL-BUR

0h42

1h12

TRK Truckee - Tahoe, CA. USA

SQL San CARLOS, CA. USA

PC-12

N806SA

URF 107

URF 120

HHR-SBA

SBA-OAK

0h27

1h06

HHR Hawthorne, CA. USA

SBA Santa Barbara, CA. USA

PC-12

N807SA

URF 121

URF 122

OAK-TRK

TRK-OAK

0h42

0h44

OAK Oakland, CA. USA

TRK Truckee - Tahoe, CA. USA

PC-12

N805SA
URF 217
OAK-HHR
1h27

OAK Oakland, CA. USA

HHR Hawthorne, CA. USA