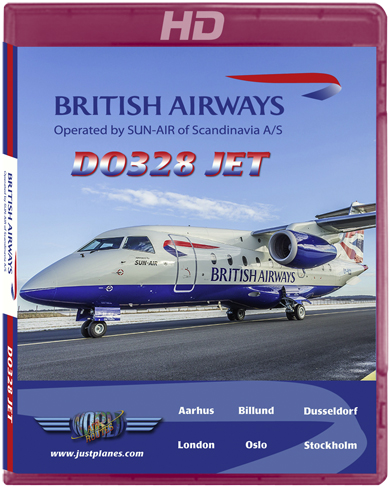 CODE : SUS2

FILMED : 2016

TIME : 226 mins

PRICE : $30
Nearly 15 years after we first filmed Sun-Air of Scandinavia we're delighted to return to the very friendly airline, this time for their Jet operations. Highlights of the program are flights into the City Airports of London as well as Stockholm Bromma with great approaches and views over the cities. Besides Billund we've also included Aarhus, Oslo and Dusseldorf. Each trip has different pilots so you get all the necessary explanations and presentations about the aircraft.
+ Cockpit filming using up to 5 cameras

for fantastic views on takeoff & landing!

+ Company Presentation by CEO

+ Detailed Preflight Preparations

+ Crew Briefings

+ Checklists

+ Depature & Arrival Airport Charts

+ External Walkaround

+ Great scenery

+ Steep approach with jet into London City Airport

2002

SUNAIR

program

now

only

$15
Please be very careful when selecting which Download you order as this can NOT be changed!!!
Click here to read more about the different Download options!
Flight Information

A/C

Reg

Flight

Route

Flt Time

Destinations

DO328

OY-NCO

BA8209

BA8210

BLL-LCY

LCY-BLL

1h35

1h10

BLL Billund, DENMARK

LCY = London City, UK

DO328

OY-NCJ

SUS006

BLL-BLL

0h10

BLL Billund, DENMARK

DO328

OY-NCJ

BA8267

BA8268

BLL-OSL

OSL-BLL

0h55

0h50

BLL Billund, DENMARK

OSL = Oslo, NORWAY

DO328

OY-NCW

BA8289

BA8290

AAR-BMA

BMA-AAR

1h00

0h55

AAR Aarhus, DENMARK

BMA = Stockholm Bromma, SWEDEN

DO328

OY-NCM

BA8201

BA8202

BLL-DUS

DUS-BLL

1h05

1h00

BLL Billund, DENMARK

DUS = Dusseldorf, GERMANY