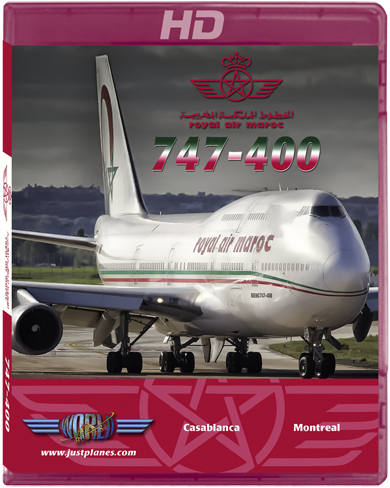 CODE : RAM2

FILMED : 2018

TIME : 270 mins

PRICE : $30
Just Planes is delighted to return to Royal Air Maroc following the release of the popular film on their Boeing 787! This time we feature the oh so popular "Queen of the Skies", our 24th Cockpit program on the Boeing 747! RAM celebrates 40 years of service on the Boeing 747 having introduced its first one into service in September 1978.
Be ready to meet one the sweetest cockpit crews we've filmed in our quarter century of producing the Cockpit series!! Captain Tazi, a 35 year veteran at the airline and one of the youngest pilots on the 747 First Officer Khadiya make such a great team as they operate the aircraft over the Atlantic from Casablanca to Montreal and back. They will show you everything about the 747 and present the flights in details from start to finish. In addition they will talk about the airline, the jumbo service, how they became pilots and a lot more!
+ Cockpit filming using up to 7 cameras!

+ Flight Preparations

+ External Walkaround

+ Cockpit Set-up

+ Briefings & Checklists

+ Cockpit Presentation

+ Depature & Arrival Airport Charts

+ Great scenery

+ Pilot Presentations
Please be very careful when selecting which Download you order as this can NOT be changed!!!
Click here to read more about the different Download options!
Flight Information

A/C

Reg

Flight

Route

Flt Time

Destinations

747-400

CN-RGA

AT 208

CAS-YUL

6h57

CAS Casablanca, MOROCCO

YUL Montreal, CANADA

747-400

CN-RGA

AT 209

YUL-CAS

6h14

YUL Montreal, CANADA

CAS Casablanca, MOROCCO