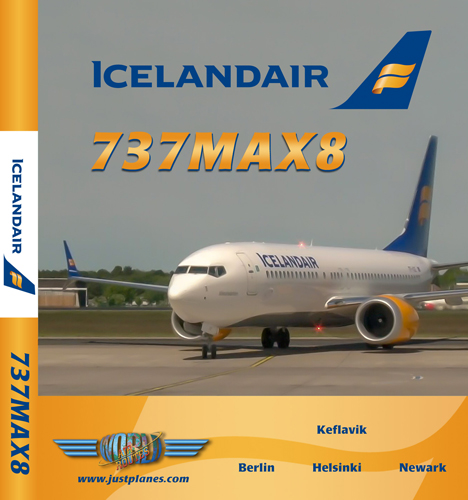 Just Planes returns to Icelandair for the 4th time! After filming the 757-200, 757-300 and 767-300 this time we feature the new Boeing 737MAX! The nearly 5 hour Cockpit Film includes Helsinki as seen in this short video, a roundtrip from Keflavik to Berlin Tegel as well as a nonstop flight into New York's Newark International Airport.

As always the Icelandic pilots are great hosts and happy to present their new aircraft, the routes we fly and a lot more...
+ Cockpit filming using 6 cameras

+ Flight Preparations

+ Cockpit Set-up

+ Cockpit Presentation

+ Briefings

+ Checklists

+ Depature & Arrival Airport Charts

+ New features of the 737MAX

+ Great scenery

Other Icelandair Cockpit Films
767-300
757-200
757-300
Be careful when selecting which Download you order as this can NOT be changed!!!
Click here to read more about the different Download options!
Flight Information

A/C

Reg

Flight

Route

Flt Time

Destinations

737MAX8

TF-ICU

FI 343

HEL-KEF

3h03

HEL Helsinki,FINLAND

KEF Keflavik, ICELAND

737MAX8

TF-ICE

FI 528

FI 529

KEF-TXL

TXL-KEF

2h53

3h25

KEF Keflavik, ICELAND

TXL Berlin Tegel, GERMANY

737MAX8

TF-ICE

FI 623
KEF-EWR
5h51

KEF Keflavik, ICELAND

EWR Newark, USA