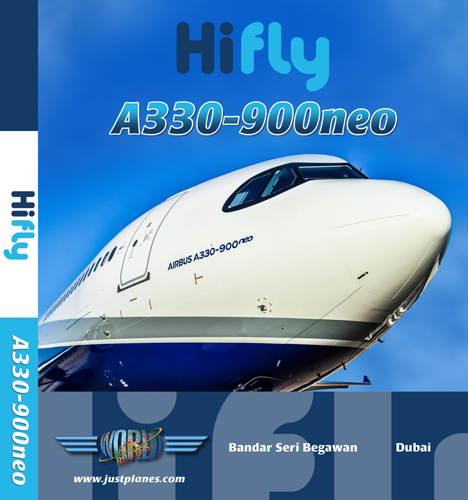 CODE : HFY2

FILMED : 2020

TIME : 183 mins

PRICE : $30
Following the HiFly Airbus A380 operating for Norwegian and Airbus A340-500 operating for Arik Air Just Planes returns to HiFly for a 3rd time now featuring their brand new A330NEO (A330-900) operating for Royal Brunei. This also means our 1st time flying to the country of Brunei, 171st country in our cockpit series.
The film covers a roundtrip from Dubai to Brunei with some fantastic views and presentations by our pilots about the flight, route and specifics about the latest A330 version.
+ Cockpit filming using 6 cameras!

+ Flight Preparations

+ Cockpit Set-up

+ Briefings

+ Checklists

+ Cockpit Presentation

+ Difference of the new A330NEO

+ Depature & Arrival Airport Charts

+ Pilot Presentations

+ 1st time flying to Brunei

HiFly A340-500

HiFly A380
Be very careful when selecting which Download you order as this can NOT be changed!!!
Click here to read more about the different Download options!
Flight Information

A/C

Reg

Flight

Route

Flt Time

Destinations

A330NEO

CS-TKY

BI 008

DXB-BWN

7h15

DXB Dubai, UAE

BWN Bandar Seri Beg., BRUNEI

A330NEO

CS-TKY

BI 007

BWN-DXB

8h35

BWN Bandar Seri Beg., BRUNEI

DXB Dubai, UAE