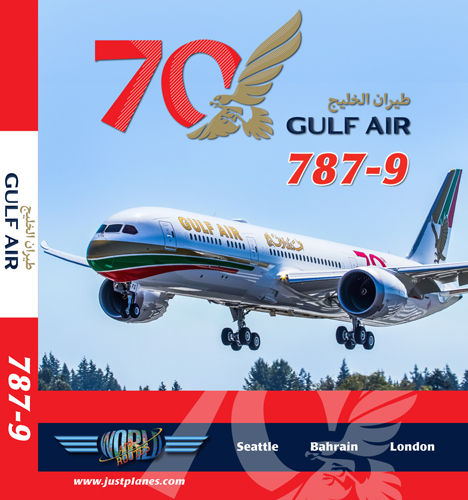 CODE : GFA2

FILMED : 2020

TIME : 188 mins

PRICE : $30
5 years ago Just Planes first visited Gulf Air in Bahrain and featured its fleet of Airbus aircraft (A320, A321 & A330) on routes to Europa, Africa and Asia.We're delighted to have been invited to return as the airline celebrates its 70th anniversary and takes delivery of a brand new Boeing 787-9 in spectacular retro livery! Our crew goes along on the more than 14 hour delivery flight from Boeing to the airline base in Bahrain and then joins the aircraft's first flight in commercial service on the route to London Heathrow.
+ Cockpit filming using 6 cameras!

+ Delivery Ceremony

+ Flight Preparations

+ Cockpit Set-up

+ Briefings

+ Checklists

+ Cockpit Presentation

+ Depature & Arrival Airport Charts

+ External Walkaround

+ Cabin Service

A321 & A330
Be very careful when selecting which Download you order as this can NOT be changed!!!
Click here to read more about the different Download options!
Flight Information

A/C

Reg

Flight

Route

Flt Time

Destinations

787-9

A9C-FG

GF9012

PAE-BAH

14h09

PAE Paine Field Boeing, USA

BAH Bahrain, BAHRAIN

787-9

A9C-FG

GF 003

BAH-LHR

6h17

BAH Bahrain, BAHRAIN

LHR London Heathrow, UK