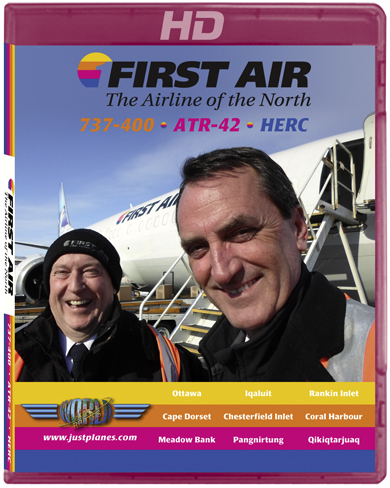 CODE : FAB1

FILMED : 2015

TIME : 240 mins

PRICE : $30
First Air becomes the 260th airline to join our series! The airline will be celebrating 70 years in 2016 and has been a pioneer in aviation! This is a great 4 hour program taking you to 6 new destinations in the series including a Gold mine! Great pilots present their aircraft and talk about flying in the North, the routes, weather etc... in details! You will enjoy some amazing scenery and a total of 13 flights on the Boeing 737-400 Combi (1st time in the series), the ATR-42 and 4 flights on the Hercules just before it was retired and left First Air!
Please be very careful when selecting which Download you order as this can NOT be changed!!!
Click here to read more about the different Download options!
+ Company Presentation & Tour of Company Headquarters
+ Visit of Flight Operations, Flight Dispatch, Flight Watch...
+ Cockpit filming using up to 6 cameras for great views on takeoff & landing!
+ Pilot Presentations +Briefings & Checklists + Cockpit set-up
+ Cockpit Presentations of Boeing 737-400, ATR-42 & Hercules
+ External Walkaround of Boeing 737-400
+ Amazing scenery!
Flight Information

A/C

Reg

Flight

Route

Flt Time

Destinations

B737-400

C-FFNF

7F 860

YOW-YFB

2h53

YOW Ottawa, CANADA

YFB Iqaluit, CANADA

ATR-42

C-FIQR

7F 824

YFB-YXP

YXP-YVM

0h50

0h37

YXP Pangnirtung, CANADA

YVM Qikiqtarjuaq, CANADA

ATR-42

C-FIQR

7F 825

YVM-YXP

YXP-YFB

0h32

0h51

YVM Qikiqtarjuaq, CANADA

YXP Pangnirtung, CANADA

ATR-42

C-FTJB

7F 644

YFB-YTE

YTE-YZS

0h58

0h51

YTE Cape Dorset, CANADA

YZS Coral Harbour, CANADA

ATR-42

C-FTJB

7F 644

YZS-YCS

YCS-YRT

0h56

0h18

YCS Chesterfield Inlet, CANADA

YRT Rankin Inlet, CANADA

L-382

HERC

C-GUSI

7F 705

7F 706

YRT-CMB2

CMB2-YRT

0h31

0h38

YRT Rankin Inlet, CANADA

CMB2 Meadow Bank, CANADA

L-382

HERC

C-GUSI

7F 701

7F 702

YRT-CMB2

CMB2-YRT

0h45

0h39

YRT Rankin Inlet, CANADA

CMB2 Meadow Bank, CANADA