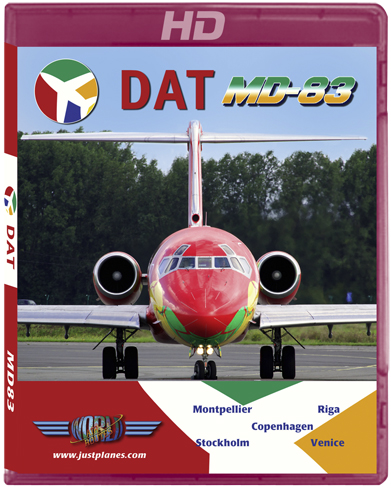 CODE : DTR1

FILMED : 2017

TIME : 233 mins

PRICE : $30
DAT, Danish Air Transport, becomes the 272nd airline in our Cockpit Series and 1st program in our HD collection to feature the MD80!
Enjoy 8 flights with a dozen different views on takeoff & landing, great routes and destinations along with great scenery and the airline's Chief Pilot who takes all his time to present to you in details the MD80 aircraft as well as each of the flights, all the charts, checklists, briefings and more...
+ Cockpit filming using up to 6 cameras for great views on takeoff & landing!
+ Pilot Presentations
+ Flight Preparations
+ External Walkaround
+ Cockpit set-up
+ Cockpit Presentations
+ Briefings & Checklists
+ Depature & Arrival Airport Charts
+ Great scenery
Please be very careful when selecting which Download you order as this can NOT be changed!!!
Click here to read more about the different Download options!
Flight Information

A/C

Reg

Flight

Route

Flt Time

Destinations

MD83

OY-RUE

NAX 3320

NAX 3321

CPH-RIX

RIX-CPH

1h05

1h03

CPH Copenhagen, DENMARK

RIX Riga, LATVIA

MD83

OY-RUE

NAX 3623

NAX 3629

CPH-MPL

MPL-CPH

1h58

2h07

CPH Copenhagen, DENMARK

MPL Montpellier, FRANCE

MD83

OY-RUE

NAX 3194

NAX 3195

CPH-ARN

ARN-CPH

0h55

0h52

CPH Copenhagen, DENMARK

ARN Stockholm Arlanda, SWEDEN

MD83

OY-RUE

NAX 3740

NAX 3741

CPH-VCE

VCE-CPH

1h38

1h45

CPH Copenhagen, DENMARK

VCE Venice, ITALY