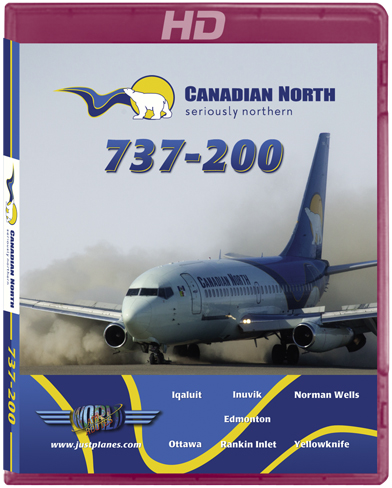 CODE : MPE1

FILMED : 2014

TIME : 210 mins

PRICE : $30
Ten years ago we first visited Canadian North and we're delighted to be visiting this great airline again mostly because it allows us to feature a full program now in HD on this fantastic aircraft which is becoming harder to find as time goes by. The program covers half a dozen great destinations out of the airline's Edmonton hub with some great approaches and very nice scenery. Most importantly we have 2 sets of pilots who go above and beyond to present every aspect of the 737-200 in complete details to you and take you step by step through each flight as they explain what they're doing and how each flight progresses.
Please be very careful when selecting which Download you order as this can NOT be changed!!!
Click here to read more about the different Download options!
+ Cockpit filming using 6 cameras for great views on takeoff & landing!
+ Program shows several wing views on takeoff/landing including trust reverser operation
+ Company Presentation
+ Pilot Presentations
+ Briefings & Checklists
+ Cockpit set-up
+ Cockpit Presentations
+ External Walkaround
+ Fantastic scenery
Flight Information

A/C

Reg

Flight

Route

Flt Time

Destinations

B737-200

C-GDPA

5T 439

YOW-YFB

YFB-YRT

2h36

1h51

YOW Ottawa, CANADA

YFB Iqaluit, CANADA

B737-200

C-GDPA

5T 439

YRT-YZF

YZF-YEG

1h52

1h33

YRT Rankin Inlet, CANADA

YZF Yellowknife, CANADA

B737-200

C-GDPA

5T 444

YEG-YZF

YZF-YVQ

1h26

1h13

YEG Edmonton, USA

YZF Yellowknife, CANADA

B737-200

C-GDPA

5T 444

5T 445

YVQ-YEV

YEV-YVQ

0h48

0h47

YVQ Norman Wells, CANADA

YEV Inuvik, CANADA

B737-200

C-GDPA

5T 445

YVQ-YZF

YZF-YEG

1h01

1h31

YVQ Norman Wells, CANADA

YZF Yellowknife, CANADA