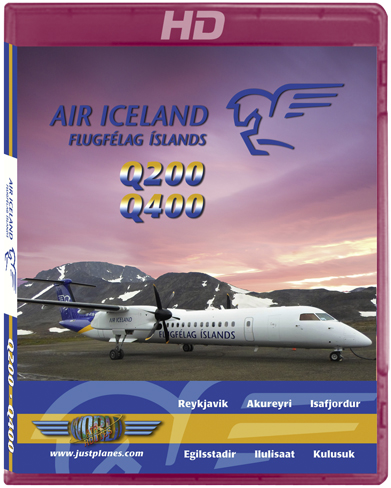 CODE : FXI1

FILMED : 2016

TIME : 275 mins

PRICE : $30
In 2004 during our first visit to Icelandair we had to pleasure of filming Air Iceland and their Fokker 50 and Metro fleet. We're delighted to return to the airline a dozen years later and dedicate an entire program to its current Dash 8 fleet. At nearly 5 hours in length you are going to discover their pilots who take you flying for some stunning views of beautiful Iceland and Greenland!
+ Cockpit filming using up to 5 cameras

for great views on takeoff & landing!

+ Pilot Presentations

+ Flight Preparations

+ Cockpit Set-up

+ Pilot Briefings + Checklists

+ Depature & Arrival Airport Charts

+ Cockpit Presentation

+ Aircraft Walkaround

+ Fantastic routes to Greenland and within Iceland

+ Amazing Scenery
Please be very careful when selecting which Download you order as this can NOT be changed!!!
Click here to read more about the different Download options!
Flight Information

A/C

Reg

Flight

Route

Flt Time

Destinations

Q-400

TF-FXB

NY 231

NY 246

REK-KUS

KUS-REK

1h19

1h25

REK Reykjavik, ICELAND

KUS Kulusuk, GREENLAND

Q-200

TF-JMK

NY 016

NY 017

REK-IFJ

IFJ-REK

0h39

0h36

REK Reykjavik, ICELAND

IFJ Isafjordur, ICELAND

Q-400

TF-FXA

NY 326

NY 327

REK-EGS

EGS-REK

0h47

0h45

REK Reykjavik, ICELAND

EGS Egilsstadir, ICELAND

Q-400

TF-FXA

NY 128

NY 129

REK-AEY

AEY-REK

0h32

0h35

REK Reykjavik, ICELAND

AEY Akureyri, ICELAND

Q-200

TF-JMK

NY 439

NY 440

REK-JAV

JAV-REK

2h56

2h54

REK Reykjavik, ICELAND

JAV Ilulisaat, GREENLAND