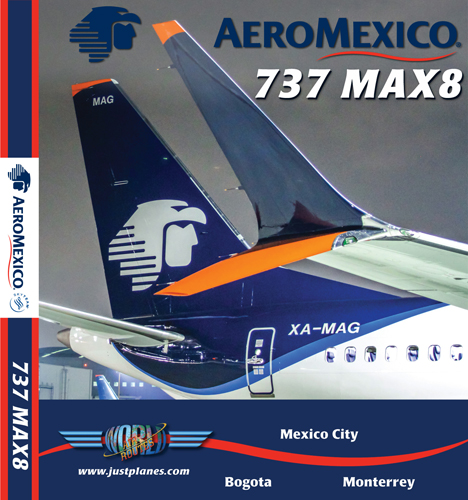 CODE : AMX5

FILMED : 2018

TIME : 260 mins

PRICE : $30
Just Planes continues its AeroMexico series wiith a 5th program of the countries national carrier on its newest aquisition, the 737MAX. For this film we selected a longer international route flying into Bogota Colombia and a shorter domestic sector to Monterrey where low visibility and a low ceiling allowed us to capture a Go-Around/Missed Approach, always something interesting to cover. Lots of nice scenery and a look at the new very modern cockpit of the Boeing 737.
+ 1st film of the 737MAX!

+ Cockpit filming using 6 cameras

+ Flight Preparations

+ Cockpit Set-up

+ Cockpit Presentation

+ Briefings

+ Checklists

+ Depature & Arrival Airport Charts

+ Differences between 737NG and 737MAX

+ Great scenery

+ Go-Around/Missed Approach!
Be careful when selecting which Download you order as this can NOT be changed!!!
Click here to read more about the different Download options!
Flight Information

A/C

Reg

Flight

Route

Flt Time

Destinations

737MAX8

XA-MAG

AM 761

AM 762

MEX-BOG

BOG-MEX

3h59

4h06

MEX Mexico City, MEXICO

BOG Bogota, COLOMBIA

737MAX8

XA-MAK

AM 902

AM 915

MEX-MTY

MTY-MEX

1h17

1h07

MEX Mexico City, MEXICO

MTY Monterrey, MEXICO