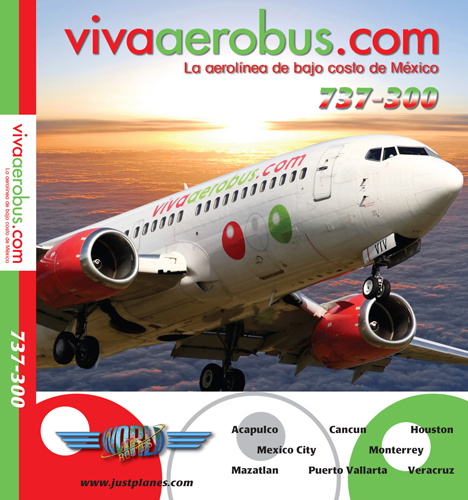 CODE : VIV1B

FILMED : 2013

TIME : 267 mins

PRICE : $30
Created in 2006, VivaAerobus is the only real low cost airline in Mexico operating a fleet of more than 20 aircraft to more than 30 destinations across Mexico and to the US. This programs takes you to some very exciting well known cities in Mexico including the famous vacations destinations of Acapulco, Cancun, Mazatlan and Puerto Vallarta!
+ Cockpit filming using up to 5 cameras for great views on takeoff & landing!
+ Pilot Presentations + Briefings & Checklists
+ External Walkaround + Depature & Arrival Airport Charts
+ Cockpit Presentation + Chief Pilot Presentation
+ Fantastic scenery to more than half a dozen destinations in Mexico!
+ Flight in the cabin with wing views
Please be very careful when selecting which Download you order as this can NOT be changed!!!
Click here to read more about the different Download options!
Flight Information

A/C

Reg

Flight

Route

Flt Time

Destinations

737-300
XA-VIW

VIV1160

VIV1161

MTY-VER

VER-MTY

1h15

1h23

MTY Monterrey, MEXICO

VER Veracruz, MEXICO

737-300
XA-VIK

VIV1230

MTY-PVR

1h19

MTY Monterrey, MEXICO

PVR Puerto Vallarta, MEXICO

737-300
XA-VAB

VIV1702

VIV1703

MTY-MEX

MEX-MTY

1h03

1h16

MTY Monterrey, MEXICO

MEX Mexico City, MEXICO

737-300
XA-VIW

VIV1180

VIV1181

MTY-ACA

ACA-MTY

1h25

1h36

MTY Monterrey, MEXICO

ACA Acapulco, MEXICO

737-300
XA-VIB

VIV1280

VIV1282

MTY-MZT

MZT-MTY

1h10

1h08

MTY Monterrey, MEXICO

MZT Mazatlan, MEXICO

737-300
XA-VIK

VIV1146

VIV1147

MTY-CUN

CUN-MTY

2h04

2h10

MTY Monterrey, MEXICO

CUN Cancun, MEXICO

737-300
XA-VIA

VIV1950

MTY-IAH

1h02

MTY Monterrey, MEXICO

IAH Houston, USA