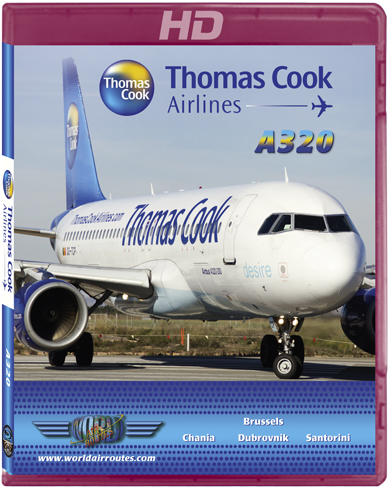 CODE : TCB1

FILMED : 2013

TIME : 246 mins

PRICE : $30
Just Planes is delighted to add Thomas Cook to our Flight in the Cockpit series! The Thomas Cook Group has the largest holiday destination fleet in the world! In this program we feature TC Belgium which was founded in 2002 and is based in Brussels where it operates a modern fleet of Airbus A320s. The 5 flights are hosted by 4 great pilots who present their work to you in details!
+ Cockpit filming using up to 6 cameras for fantastic views on takeoff & landing!
+ Preflight Preparations
+ Briefings & Checklists
+ Aircraft Walkaround
+ Cockpit Presentation
+ Depature & Arrival Airport Charts
+ Very in-dept presentations of pilot duties including cockpit set-up, computer programing etc...
+ CRM Presentation
+ Flight Safety Presentation
+ European Weather Presentation
+ Great scenery during approaches and en route in flight
Flight Information

A/C

Reg

Flight

Route

Flt Time

Destinations

A320

OO-TCI

HQ 2638

BRU-JTR

3h07

BRU Brussels, BELGIUM

JTR Santorini, GREECE

A320

OO-TCI

HQ 2639

JTR-CHQ

0h28

JTR Santorini, GREECE

CHQ Chania, GREECE

A320

OO-TCI

HQ 2639

CHQ-BRU

3h11

CHQ Chania, GREECE

BRU Brussels, BELGIUM

A320

OO-TCH

HQ 6594

BRU-DBV

1h52

BRU Brussels, BELGIUM

DBV Dubrovnik, CROATIA

A320

OO-TCH

HQ 6595

DBV-BRU

2h03

DBV Dubrovnik, CROATIA

BRU Brussels, BELGIUM