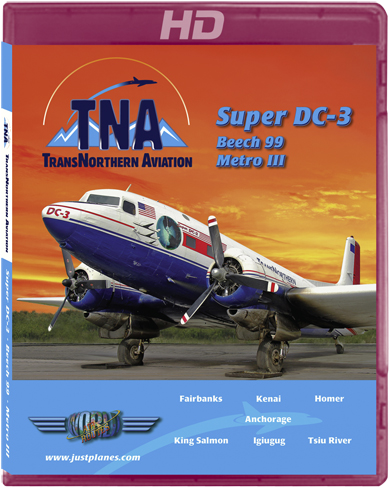 CODE : TNA1

FILMED : 2014

TIME : 224 mins

PRICE : $30
Trans Northern becomes the 255th airline to join our series and with it comes the opportunity to feature an all time classic and one of the most significant transport aircraft ever made!!
This program is yet another great adventure taking you on 5 trips including a Metro ride to Fairbanks, a cargo trip on the Beech 99 to a couple of destinations in Alaska and the highlight of this video, 3 trips on the Super DC-3 including the amazing and epic landing on a wet beach!
Our pilots will present their aircraft to you, take you through the cockpits, talk about the trips, what flying in Alaska is all about, show you nice scenery and a lot more...
Please be very careful when selecting which Download you order as this can NOT be changed!!!
Click here to read more about the different Download options!
+ Cockpit filming using multi cameras for great views including a TailCAM & BellyCAM!
+ Pilot Presentations
+ Checklists
+ Cockpit Presentations
+ Company Presentation
+ Maintenance Presentation
Flight Information

A/C

Reg

Flight

Route

Flt Time

Destinations

Super DC3

N29TN

TNV029

ANC-IGG

IGG-ANC

1h18

1h22

ANC Anchorage, USA

IGG Igiugug, USA

Super DC3

N29TN

TNV031

ANC-AKN

AKN-ANC

1h35

1h31

ANC Anchorage, USA

AKN King Salmon, USA

Metro III

N3114G

TNV121

ANC-FAI

FAI-ANC

1h06

1h15

ANC Anchorage, USA

FAI Fairbanks, USA

Beech 99

N39TN

TNV151

ANC-ENA

ENA-HOM
HOM-ANC

0h20

0h21

0h35

ANC Anchorage, USA

ENA Kenai, USA
HOM Homer, USA

Super DC3

N29TN
TNV034

ANC-TSI

TSI-ANC

1h40

1h35

ANC Anchorage, USA

TSI Tsiu River, USA