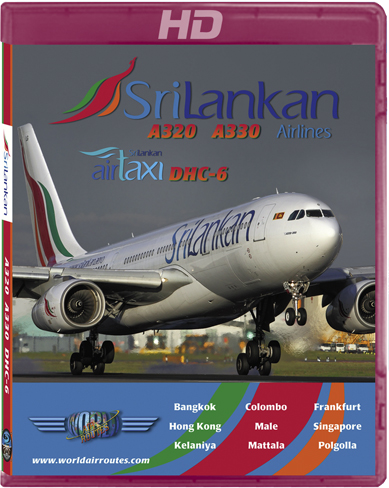 CODE : ALK1

FILMED : 2013

TIME : 275 mins

PRICE : $30
We're delighted to welcome SriLankan to our series. You'll discover this great & friendly airline as you fly the Airbus A330 to Frankfurt, Bangkok, Hong Kong, the fantastic Maldives and the brand new airport in Mattala ; the A320 will take you to Singapore and you'll fly 4 legs on the SriLankan Air Taxi Twin Otter across Sri Lanka!
+ Cockpit filming using up to 6 cameras for fantastic views on takeoff & landing!
+ Preflight Preparations
+ Briefings & Checklists
+ Aircraft Walkaround
+ Depature & Arrival Airport Charts
+ Cabin service
+ Great scenery during approaches and en route in flight
+ First flight to the brand new Mattala International Airport in Sri Lanka.
+ Introduction of the WaterCAM video on the SriLankan Air Taxi flights!
+ Company Presentation by the COO
+ Colombo International Airport visit including runway action.
Flight Information

A/C

Reg

Flight

Route

Flt Time

Destinations

A330-200

4R-ALG

UL 557

UL 558

CMB-FRA

FRA-CMB

10h36

9h01

CMB Colombo, SRI LANKA

FRA Frankfurt, GERMANY

A330-200

4R-ALB

UL 113

UL 114

UL 114

CMB-MLE

MLE-HRI

HRI-CMB

1h07

1h21

0h25

CMB Colombo, SRI LANKA

MLE Male, MALDIVES

HRI Mattala, SRI LANKA

DHC-6

C-GKLB

UL 8005

UL 8005

UL 8006

UL 8006

CMB-KEZ

KEZ-KDZ

KDZ-KEZ

KEZ-CMB

0h08

0h25

0h27

0h06

CMB Colombo, SRI LANKA

KDZ Polgolla Reservoir, SRI LANKA

KEZ Keleniya River, SRI LANKA

CMB Colombo, SRI LANKA

A320

4R-ABP

UL 302

UL 303

CMB-SIN

SIN-CMB

3h34

3h29

CMB Colombo, SRI LANKA

SIN Singapore, SINGAPORE

A330-200
4R-ALJ

UL 422

UL 422

UL 423

CMB-BKK

BKK-HKG

HKG-BKK

3h03

2h21

2h22

CMB Colombo, SRI LANKA

BKK Bangkok, THAILAND

HKG Hong Kong, CHINA
| | |
| --- | --- |
| Always on the lookout for oncoming traffic, here an Airbus A380 | About to touchdown at Frankfurt |
| Male is like an aircraft carrier, an amazing place to fly into! | Departing from Male International Airport |
| Also flying SriLankan Air Taxi Twin Otter | Includes our 1st WaterCAM videos! |
| We fly the SriLankan A330 to Frankfurt, Male, Bangkok & Hong Kong | We fly the SriLankan A320 to Singapore |
| Mattala is a brand new airport that just opened before this filming! | Walkaround of the A320 before our departure to Singapore |
| First Officer flying the approach into Singapore | Captain preparing his A320 for departure out of Singapore |
| Very friendly crews!! | On short final at Bangkok |
| Bad weather at Hong Kong | About to touch down at CLK International |
| Climbing out of Hong Kong | Sunrises and Sunsets are often pretty amazing in flight! |