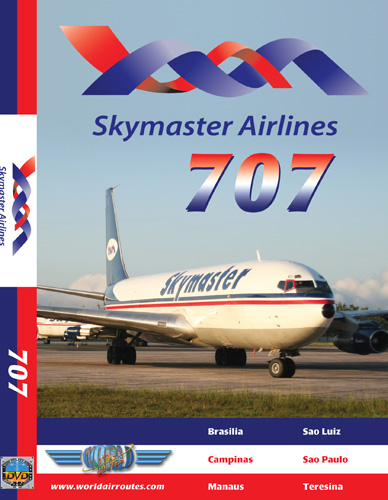 20 years ago Just Planes was lucky enough to film 3 programs on this fantastic aircraft! Sadly by now they're mostly, if not all, gone! This is one classic airplane and program you do not want to miss!
The 1st part of the program features PT-WSM flying a 6 flight mission to 4 destinations, part 2 is on PT-WSZ covering the roundtrip from Campinas to Manaus!
The sound of these engines is certainly one of the many highlights and the beautiful views over Brazil always add a lot to these programs. Enjoy the 707!
Download this program now for only $15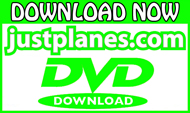 Who would have thought that beyond the year 2000 we would be seeing 707s still flying the friendly skies? Skymaster Airlines has been operating a fleet of 707s on their cargo operations and Just Planes has again secured a unique privilege in capturing this perhaps never to be repeated operation on film.
We join the flight crew in this DVD on cargo flights to destinations such as Brasilia, Teresina, Sao Luiz, Campinas and Manaus on board the 707-300. Some of the highlights I enjoyed in this DVD were the stunning views from the cockpit on takeoff and landing, loading and offloading of the aircraft and the clear view of the pilots as they carry out their procedures.
This is a very unique DVD that features an aircraft few of us may ever have the opportunity to see again. I would definitely recommend that you add this to your collection. Reviewed by AvSim
Flight Information

A/C

Reg

Flight

Route

Flt Time

Destinations

B707

PT-WSM

SKC 200

GRU-BSB

1h13

GRU Sao Paulo Guarulhos, BRAZIL

BSB Brasilia, BRAZIL

B707

PT-WSM

SKC 200

BSB-THE

1h42

BSB Brasilia, BRAZIL

THE Teresina, BRAZIL

B707

PT-WSM

SKC 200

THE-SLZ

0h32

THE Teresina, BRAZIL

SLZ Sao Luiz, BRAZIL

B707

PT-WSM

SKC 201

SLZ-THE

0h33

SLZ Sao Luiz, BRAZIL

THE Teresina, BRAZIL

B707

PT-WSM

SKC 201

THE-BSB

1h36

THE Teresina, BRAZIL

BSB Brasilia, BRAZIL

B707

PT-WSM

SKC 201

BSB-GRU

1h17

BSB Brasilia, BRAZIL

GRU Sao Paulo Guarulhos, BRAZIL

B707

PT-WSZ

SKC 5514

VCP-MAO

3h26

VCP Campinas, BRAZIL

MAO Manaus, BRAZIL

B707

PT-WSZ

SKC 5515

MAO-VCP

3h17

MAO Manaus, BRAZIL

VCP Campinas, BRAZIL