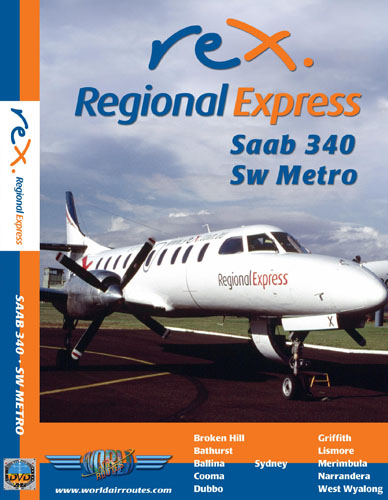 Regional Express, Australia's largest independent regional airline gives us a chance to fly to 10 destinations from Sydney with flights in the cockpit of the Saab 340 and Metro. In total 19 flights to some cool destinations!he 3 hour program features great scenery flying in NSW. Also included are a pair of flights in the cabin, a walkround of the Sf340 and a brief cockpit presentation.
Download this program now for only $15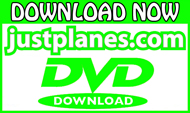 I was so impressed with Rex Regional that it has officially become my favorite DVD out of a collection of more than 60 videos, it was just awesome. The Saab 340 has really grown on me and the footage that's captured by you guys on this particular aircraft is exceptional, it's why I want to order every video on the 340 now. Just Planes is hands down the best at what they do and it's because of this that they'll always have a loyal fan base World Wide.
Brent K, CANADA
This is the greatest DVD ever made of an Australian Airline!! This nicely compliments the Virgin Blue DVD made a few years ago, and both capture the true sights of Australia by air. Thanks very much for such an awesome program. Consider making more programs downunder in the not to distant future. 24 WAR Programs & still going!!!
Matthew Albiston, AUSTRALIA
This has got to be yet another winner for World Air Routes. This program takes you from the big city of Sydney to the back of beyond..literally...Truly a remarkable en site to smallÊoperations but very big must have for those passengers living in isolated areas. Broken Hill is an area which I would love to visit in particular the Royal Flying Doctors Service which covers most of the outback. Thanks World Air Routes for this program....24 & counting.
EJL Edwards, UK
Fantastic pictures. Worked at Lycoming testing the LF507 engines from day one. Glad to see they are still running and flying.
Frederick Hobbs, USA
A great program on REX-Regional Express! Lots of nice scenery of the various landscapes of SE Australia from the orange desert outback to the vivid green coastal areas to the metropolis of Sydney. Very nice coverage of the Saab 340 in the cockpit and especially enjoyable flight in the Saab 340 cabin in beautiful weather from Dubbo to Sydney! A very nicely done walkaround presentation of the Saab 340 also. Excellent camera work including a close look from outside the aircraft at the ramp area and terminal building at each destination. I noticed that each destination outside of Sydney has no control tower. I love programs like this that take you to small, out of the way destinations around the world. I like to thank the producer for including the Metro on this program! A really interesting little airliner which is rarely seen. That is one hot airplane that I have worked with a lot in the past. Great views from both the cockpit and forward passenger cabin. A real nostalgic experience with great exterior views of the Metro on the ramp at 2 destinations. Michel & crew, please keep these fantastic World Air Routes programs coming!!!
Greg Rowland, USA
Another fantastic product from the Justplanes team...congrats!!!! I have been waiting a while for another Australian airline to be showcased, and this Rex dvd is awesome!! Very well done...thanks :)
Daniel Moroz, AUSTRALIA
Flight Information

A/C

Reg

Flight

Route

Flt Time

Destinations

Sf 340

VH-EKX
ZL 232

SYD-BNK

1h18

SYD Sydney, AUSTRALIA

BNK Ballina, AUSTRALIA

Sf 340

VH-EKX
ZL 233
BNK-SYD

1h54

BNK Ballina, AUSTRALIA

SYD Sydney, AUSTRALIA

Sf 340

VH-KDQ
ZL 862
SYD-DBO
0h47

SYD Sydney, AUSTRALIA

DBO Dubbo, AUSTRALIA

Sf 340

VH-KDQ
ZL 862
DBO-BHQ

1h32

DBO Dubbo, AUSTRALIA

BHQ Broken Hill, AUSTRALIA

Sf 340

VH-KDQ
ZL 863
BHQ-DBO

1h27

BHQ Broken Hill, AUSTRALIA

DBO Dubbo, AUSTRALIA

Sf 340

VH-KDQ
ZL 863
DBO-SYD
0h53

SYD Sydney, AUSTRALIA

DBO Dubbo, AUSTRALIA

Sf 340

VH-PRX
ZL 328

SYD-LSY

1h22

SYD Sydney, AUSTRALIA

LSY Lismore, AUSTRALIA

Sf 340

VH-PRX
ZL 329

LSY-SYD

1h27

LSY Lismore, AUSTRALIA

SYD Sydney, AUSTRALIA

Sf 340

VH-PRX
ZL 471

SYD-NRA

1h06

SYD Sydney, AUSTRALIA

NRA Narrandera, AUSTRALIA

Sf 340

VH-PRX
ZL 471

NRA-GFF

0h13

NRA Narrandera, AUSTRALIA

GFF Griffith, AUSTRALIA

Sf 340

VH-PRX
ZL 472

GFF-SYD

1h06

GFF Griffith, AUSTRALIA

SYD Sydney, AUSTRALIA

Sf 340

VH-EKH
ZL 123
SYD-MIM
0h53

SYD Sydney, AUSTRALIA

MIM Merimbula, AUSTRALIA

Sf 340

VH-EKH
ZL 126
MIM-SYD

1h03

MIM Merimbula, AUSTRALIA

SYD Sydney, AUSTRALIA

Sf 340

VH-KDO
ZL 381
SYD-OOM
0h51

SYD Sydney, AUSTRALIA

OOM Cooma, AUSTRALIA

Sf 340

VH-KDO
ZL 382
OOM-SYD
0h51

OOM Cooma, AUSTRALIA

SYD Sydney, AUSTRALIA

Metro
VH-KEX
ZL 971
SYD-WWY
1h02

SYD Sydney, AUSTRALIA

WWY West Wyalong, AUSTRALIA

Metro
VH-KEX
ZL 972
WWY-SYD
0h47

WWY West Wyalong, AUSTRALIA

SYD Sydney, AUSTRALIA

Metro
VH-KEX
ZL 628
SYD-BHS
0h30

SYD Sydney, AUSTRALIA

BHS Bathurst, AUSTRALIA

Metro
VH-KEX
ZL 629
BHS-SYD
0h41

BHS Bathurst, AUSTRALIA

SYD Sydney, AUSTRALIA