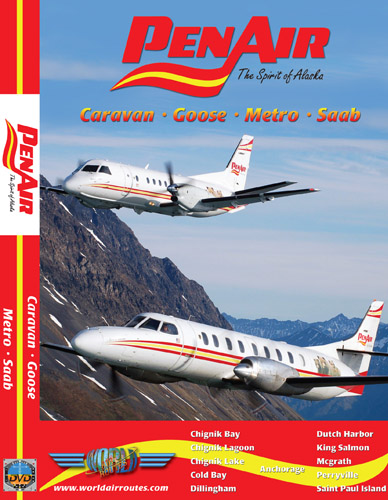 PenAir is Alaska's second largest commuter airline, operating a fleet of 40 aircraft and providing scheduled service to 36 communities throughout Southwest Alaska.
This program features flights on the Caravan, Goose, Metro and Saab 340 to more than 10 destinations within Alaska.
Besides the usual cockpit views and pilot presentations you will enjoy some amazing scenery and great air to air footage of the Metro III and Saab 340 flying side by side.
This is Aviation!!
Download this program now for only $15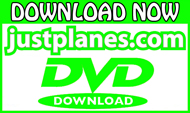 Comments
Thanks for a great and varied video. I really appreciated all of that hands on flying and VFR approaches. Those pilots really earn their keep the hard way. I am a retired (but not tired) Delta Airlines pilot. Thanks again. JB , USA
Penair is a fantastic program with much information on Alaska's largest commuter airline and its fleet. The air-to-air shots and the flight on the Goose were amazing! All the crews were fantastic as well. Tim Herman, USA
A big than you to Just Planes and Penair for a really great program! I'm especially delighted with the coverage of one of my favorite regional airliners, the Metro III. A great cockpit presentation and the only walkaround presentation of the Metro ever seen! Nice views of the cockpit and through forward cabin windows on 4 flights make this a fantastic presentation of an historically very important airliner. I started my airline career working with the Metro. Also, wonderfully photographed air to air of a Metro in close formation flight with a Saab 340 over beautiful Alaska scenery! Very good coverage of the Saab 340, again in the cockpit and cabin with a very detailed walkaround. The flight on the Grumman Goose out of beautiful Dutch Harbor is a treat with great, almost surreal scenery. This is the only DVD program on the Goose, which is an airplane with a history dating back to the 1930s ; a true rarity! The Cessna Caravan flights into small villages on the Alaskan Peninsula are a rare look at wilderness scenery and some of the smallest populated destinations with airline service anywhere in the world. A really great program!!!
Greg Rowland, USA
Another Winner! 4 different aircraft, pistons and turbines, dirt runways, the stark beauty of Dutch Harbor, over 3 hours of this stuff, a real value! John Streiter, USA
Flight Information

A/C

Reg

Flight

Route

Flt Time

Destinations

Sw. Metro

N2719H

KS 235

ANC-MCG

0h52

ANC Anchorage AK, USA

MCG Mcgrath AK, USA

Sw. Metro

N2719H

KS 236
MCG-ANC

0h56

MCG Mcgrath AK, USA

ANC Anchorage AK, USA

Sw. Metro

N2719H

KS 501
ANC-CDB
2h34

ANC Anchorage AK, USA

CDB Cold Bay AK, USA

Sw. Metro

N2719H

KS 501
CDB-DUT
1h00

CDB Cold Bay AK, USA

DUT Dutch Harbor AK, USA

Gr. Goose

N7811

KS 001
DUT-DUT
0h30

DUT Dutch Harbor AK, USA

DUT Dutch Harbor AK, USA

Saab 340
N675PA
KS 3299
DUT-ANC
2h53

DUT Dutch Harbor AK, USA

ANC Anchorage AK, USA

Saab 340
N676PA
KS 263
ANC-DLG
1h12

ANC Anchorage AK, USA

DLG Dillingham AK, USA

Saab 340
N676PA
KS 264
DLG-ANC
1h16

DLG Dillingham AK, USA

ANC Anchorage AK, USA

Saab 340
N675PA
KS 271
ANC-DLG
1h08

ANC Anchorage AK, USA

DLG Dillingham AK, USA

Saab 340
N675PA
KS 271
DLG-SNP
1h39

DLG Dillingham AK, USA

SNP Saint Paul Island AK, USA

Saab 340
N675PA
KS 272
SNP-ANC
2h37

SNP Saint Paul Island AK, USA

ANC Anchorage AK, USA

Saab 340
N677PA
KS 2900
ANC-AKN
1h12

ANC Anchorage AK, USA

AKN King Salmon AK, USA

Caravan
N9304F
KS 843
AKN-KPV
1h20

AKN King Salmon AK, USA

KPV Perryville AK, USA

Caravan
N9304F
KS 844
KPV-AKN
1h23

KPV Perryville AK, USA

AKN King Salmon AK, USA

Caravan
N9481F
KS 891
AKN-KBW
1h15

AKN King Salmon AK, USA

KBW Chignik Bay AK, USA

Caravan
N9481F
KS 891
KBW-KCL
0h05

KBW Chignik Bay AK, USA

KCL Chignik Lagoon AK, USA

Caravan
N9481F
KS 892
KCL-KCQ
0h07

KCL Chignik Lagoon AK, USA

KCQ Chignik Lake AK, USA

Caravan
N9481F
KS 892
KCQ-AKN
1h21

KCQ Chignik Lake AK, USA

AKN King Salmon AK, USA