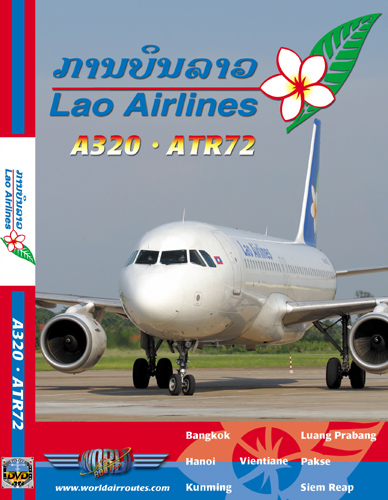 Lao Airlines, the national airline of Laos, operates a fleet of Airbus A320s and ATR72s on domestic and regional international routes from its main base at Vientiane Airport.
This program follows these aircraft on domestic flights to a pair of cities in Laos. After landing in Luang Prabang we skip the return flight for a tour of the city and catch the next ATR flight back to Vientiane. One domestic flight is filmed in the cabin. We also cover several of the airline's international routes to Cambodia, China, Thailand and Vietnam. Those are mostly operated by the airline's new Airbus A320-200.

Download this program now for only $15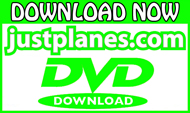 Comments
I watched this dvd more than once. It is excellent! This DVD has some very unusual destinations in the far east such as Hanoi, Kunming, Vientiane, Luang Prabang, Pakse, and Siem Reap! I really enjoyed the scenery a lot! The visit of the ticketing department at Vientiane's Wattay International Airport was nice. The short visit of Luang Prabang was awesome because it is a destination featured on World Air Routes that we hardly fly too! I did enjoy the cabin on the reaturn flight to Vientiane from Luang Prabang which allowed me to see more awesome Lao Scenery! I also liked the monsoon landing in Vientiane returning from Kunming! This DVD is a must have for far east fans!
Spencer Mitchell, USA
Whether it be the bleakness of Hanoi or the sophistication of Kunming, there are some fascinating destinations in this unmissable program. The A320 landing at Vientiane in a monsoon is exciting, and the sight of two men on a motor-bike in Luang Prabang, with an umbrella to protect themselves from the sun, is hilarious. Robert Apps, UK
Flight Information

A/C

Reg

Flight

Route

Flt Time

Destinations

A320

VN-A123

QV 414

VTE-BKK

0h59

VTE Vientiane, LAOS

BKK Bangkok, THAILAND

A320

VN-A123

QV 424
BKK-VTE

0h51

BKK Bangkok, THAILAND

VTE Vientiane, LAOS

A320

VN-A123

QV 312
VTE-HAN

0h45

VTE Vientiane, LAOS

HAN Hanoi, VIETNAM

A320

VN-A123

QV 322
HAN-VTE

0h45

HAN Hanoi, VIETNAM

VTE Vientiane, LAOS

A320

VN-A123

QV 817
VTE-KMG

1h15

VTE Vientiane, LAOS

KMG Kunming, CHINA

A320

VN-A123

QV 827
KMG-VTE

1h09

KMG Kunming, CHINA

VTE Vientiane, LAOS

ATR-72
RDPL34137
QV 101
VTE-LPQ
0h38

VTE Vientiane, LAOS

LPQ Luang Prabang, LAOS

ATR-72
RDPL34137
QV 104
LPQ-VTE
0h35

LPQ Luang Prabang, LAOS

VTE Vientiane, LAOS

ATR-72
RDPL34137
QV 512
VTE-PKZ
1h12

VTE Vientiane, LAOS

PKZ Pakse, LAOS

ATR-72
RDPL34137
QV 512
PKZ-REP
0h50

PKZ Pakse, LAOS

REP Siem Reap, CAMBODIA

ATR-72
RDPL34137
QV 522
REP-PKZ
0h50

REP Siem Reap, CAMBODIA

PKZ Pakse, LAOS

ATR-72
RDPL34137
QV 522
PKZ-VTE
1h05

PKZ Pakse, LAOS

VTE Vientiane, LAOS