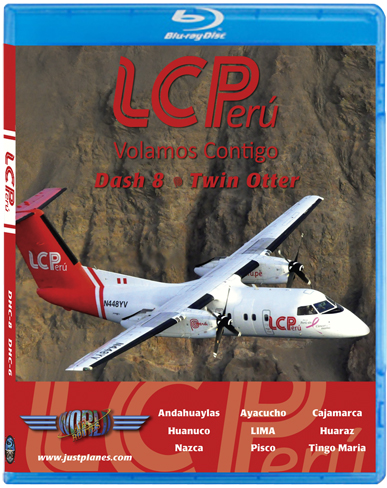 CODE : LCB1B

FILMED : 2013

TIME : 275 mins

PRICE : $30
LCPeru becomes the 1st airline from Peru to be featured in our series. You will discover a beautiful country with a huge variety from the cost to the jungle and more specifically the high altitude airports LC operates to being the only airline in the world to fly the Dash 8-202 to airports above 10,000 feet!
+ Cockpit filming using up to 5 cameras for great views on takeoff & landing!
+ Use of GearCAM, NoseCAM, PilotCAM, TailCAM!
+ 1st time use of the EngineCAM for incredible views!
+ Pilot Presentations
+ Briefings & Checklists
+ Depature & Arrival Airport Charts
+ Most detailed Dash 8 Cockpit Presentation ever!
+ Company Presentation
+ Fantastic scenery to more than 9 destinations in Peru!
+ Flight in the cabin with wing views
Flight Information

A/C

Reg

Flight

Route

Flt Time

Destinations

DHC-8
N444YV

LCB1331

LCB1332

LIM-HUU

HUU-LIM

0h48

0h48

LIM Lima, PERU

HUU Huanuco, PERU (6,070ft)

DHC-8
N444YV

LCB1323

LCB1324

LIM-AYP

AYP-LIM

0h54

1h02

LIM Lima, PERU

AYP Ayacucho, PERU (8,917ft)

DHC-8
N447YV

LCB1311

LCB1312

LIM-CJA

CJA-LIM

1h21

1h23

LIM Lima, PERU

CJA Cajamarca, PERU (8,781ft)

DHC-8
N447YV

LCB1361

LCB1362

LIM-ATA

ATA-LIM

0h55

0h55

LIM Lima, PERU

ATA Huaraz, PERU (9,097ft)

DHC-6
N72GC

LCB3403

LCB3404

PIO-NZA

NZA-PIO

1h02

0h58

PIO Pisco, PERU

NZA Nazca, PERU

DHC-8
N454YV

LCB1341

LCB1342

LIM-TGI

TGI-LIM

0h58

0h58

LIM Lima, PERU

TGI Tingo Maria, PERU

DHC-8
N447YV

LCB1351

LCB1352

LIM-ANS

ANS-LIM

1h07

1h11

LIM Lima, PERU

ANS Andahuaylas, PERU (11,300ft)