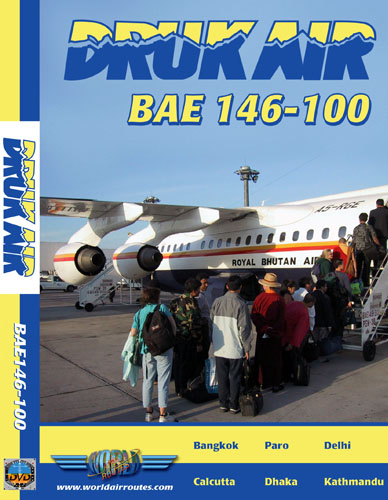 First released on VHS in 2001, the Druk Air program returns on DVD 5 years later mostly because it offers a look at the spectacular and very unusual flying in and out of Paro, Bhutan.
You are in the cockpit for 2 departures and 2 arrival at Paro in both directions of the runway, pilots explain what the special procedure is. You will also fly to 5 of the airline's destinations in Bangladesh, India, Nepal and Thailand and observe the BAe146 arriving and departing from the runway. Also included are view from around the country.
Download this program now for only $15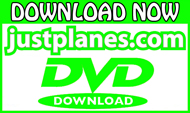 Comments
This is an incredible DVD.....The filming is magnificent....An aerial version of National Geographic while being in a great aircraft...The Bae 146...a four engined aircraft that suits this airline well...just look at the terrain... this aircraft...what it has to manuever in and around and over...absolutely great...and growing up in Delhi during the late 50's...it was great to see the old "PALAM' Airport once again...A job well done...Thx Just Planes.
Dean Gleason, USA
Fantastic! This is one exciting DVD. The take-offs and landings at Paro are awesome and very demanding of the pilots and the Himalaya mountain scenery really adds to the excitement. What makes this program particularly interesting is the insight into a country that few visitors are privileged to visit. This is a must-have DVD with the usual excellent filming from the Just Planes crew.
Simon Wilson, AUSTRALIA
Flight Information

A/C

Reg

Flight

Route

Flt Time

Destinations

BAe146

A5-RGE

DRK 122

PHB-CCU

0h55

PBH Paro, BHUTAN

CCU Calcutta, INDIA

BAe146

A5-RGE

DRK 122

CCU-BKK

2h25

CCU Calcutta, INDIA

BKK Bangkok, THAILAND

BAe146

A5-RGE

DRK 127

BKK-DAC

2h30

BKK Bangkok, THAILAND

DAC Dhaka, BANGLADESH

BAe146

A5-RGE

DRK 127

DAC-PBH

0h50

DAC Dhaka, BANGLADESH

PBH Paro, BHUTAN

BAe146

A5-RGE

DRK 204

PBH-KTM

1h10

PBH Paro, BHUTAN

KTM Kathmandu, NEPAL

BAe146

A5-RGE

DRK 204

KTM-DEL

1h10

KTM Kathmandu, NEPAL

DEL Delhi, INDIA

BAe146

A5-RGE

DRK 205

DEL-KTM

1h15

DEL Delhi, INDIA

KTM Kathmandu, NEPAL

BAe146

A5-RGE

DRK 205

KTM-PBH

0h40

KTM Kathmandu, NEPAL

PBH Paro, BHUTAN