Following AeBal, Air Baltic, Braathens, Spanair and Wideroe, Blue 1 becomes the 6th airline in the SAS Group to be featured in the World Air Routes series. Blue 1 operates Avro RJs and MD90s from its base at Helsinkin Airport on domestic and international routes.
This 3hr program is spends just over an hour in the cockpit of the Avro RJ85 on domestic routes in Finland and completes with a flight in the cabin to Sweden. The MD90 is featured for close to 2 hours and includes 5 flights in the cockpit to Norway, Sweden and Switzerland.
Download this program now for only $15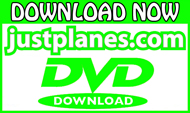 The camera work in this DVD is superb, a real insight to see what the cabin view was like on takeoff. Great explanation of the Avro RJ, pilots very informative, a must have DVD in my opinion.
P.Smith, UK
In this dvd we get to see a very scenic scenery of Scandinavia, which is always a treat. The RJ 85 is a great airplane with very powerfull performance... the Jumbolino's cabin scenes and the takeoff from wing perspective brought me back to the flight I took in 2008 from Frankfurt to Hanover in the RJ 85 of Eurowings. The takeoff was so powerful, that I didn't forget it till this day...what a feeling!!. The Md -90 part was also great with flights to Zurich and Oslo. So, for all people who are interested in Scandinavian scenery, this is the dvd for you.
Daniel Shub, ISRAEL
I absolutely loved this program! It's my first time seeing the MD-90 and there's lots of information on the AVRO RJ-85 as well. Great scenery of Helsinki and elsewhere in Scandinavia.
Tim Herman, USA
DVD optimum. Wide aerial description of the airline, magnificent the display images. The part dedicated to the MD90 is simply fantastic.
Amos Migliavacca, ITALY
Flight Information

A/C

Reg

Flight

Route

Flt Time

Destinations

Avro RJ85

OH-SAJ

KF 241

HEL-KUO

0h39

HEL Helsinki, FINLAND

KUO Kuopio, FINLAND

Avro RJ85

OH-SAJ

KF 242

KUO-HEL

0h39

KUO Kuopio, FINLAND

HEL Helsinki, FINLAND

Avro RJ85

OH-SAJ

KF 289

HEL-VAA

0h39

HEL Helsinki, FINLAND

VAA Vaasa, FINLAND

Avro RJ85

OH-SAJ

KF 284

VAA-HEL

0h40

VAA Vaasa, FINLAND

HEL Helsinki, FINLAND

Avro RJ85

OH-SAP

KF 473

HEL-GOT

1h20

HEL Helsinki, FINLAND

GOT Gothenburg, SWEDEN

MD90

OH-BLE

KF 472

GOT-HEL

1h05

GOT Gothenburg, SWEDEN

HEL Helsinki, FINLAND

MD90

OH-BLE

KF 703

HEL-ZRH

2h32

HEL Helsinki, FINLAND

ZRH Zurich, SWITZERLAND

MD90

OH-BLE

KF 704

ZRH-HEL

2h24

ZRH Zurich, SWITZERLAND

HEL Helsinki, FINLAND

MD90

OH-BLF

KF 501

HEL-OSL

1h12

HEL Helsinki, FINLAND

OSL Oslo.NORWAY

MD90

OH-BLF

KF 502

OSL-HEL

1h10

OSL Oslo.NORWAY

HEL Helsinki, FINLAND