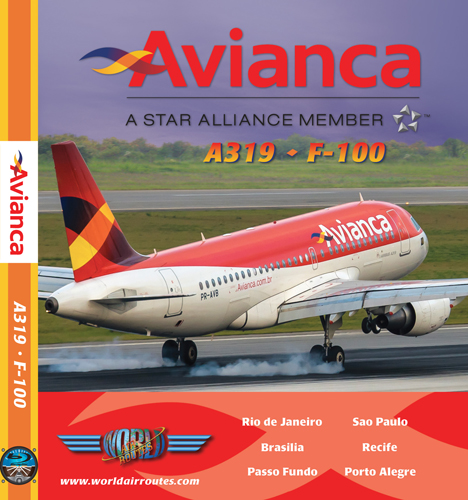 CODE : AVA1

FILMED : 2013

TIME : 273 mins

PRICE : $30
In this program we present the Brazilian operation of Avianca which operates a fleet of more than 30 aircraft to 25 destinations. The more than 4h30min program starts with 4 flights on the Fokker 100 which are currently being phased out and replaced with A320 family aircraft.
We then continue with several shuttle flights between Sao & Rio, each focusing on different views during the takeoffs and landings. We conclude with flights to Brasilia and Recife.
+ Cockpit filming using 5 cameras for multiple views on takeoff & landing!
+ Briefings & Checklists + Depature & Arrival Airport Charts
+ Aircraft Walkarounds of Fokker 100 & Airbus A319 + Cockpit Presentation
+ Special Operation into Passo Fundo (Avianca is the only airline operating)
+ In-dept pres of pilot duties incl cockpit set-up, computer programing etc...
+ Various shuttle flights to Rio/Sao with different views on takeoff/landing!
+ Great scenery around Brazil
Be very careful when selecting which Download you order as this can NOT be changed!!!
Click here to read more about the different Download options!
Flight Information

A/C

Reg

Flight

Route

Time

Destinations

Fk-100

PR-OAU

AV 6126

AV 6127

GRU-POA

POA-GRU

1h24

1h24

GRU Sao Paulo Guarulhos, BRAZIL

POA Porto Alegre, BRAZIL

Fk-100

PR-OAU

AV 6178

AV 6179

GRU-PFB

PFB-GRU

1h17

1h21

GRU Sao Paulo Guarulhos, BRAZIL

PFB Passo Fundo, BRAZIL

A319

PR-ONJ

AV 6000

AV 6003

CGH-SDU

SDU-CGH

0h56

0h51

CGH Sao Paulo Congonhas, BRAZIL

SDU Rio Santos Dumont, BRAZIL

A319

PR-AVB

AV 6006

AV 6002

CGH-SDU

SDU-BSB

0h40

1h34

SDU Rio Santos Dumont, BRAZIL

BSB Brasilia, BRAZIL

A319

PR-AVD

AV 6300

AV 6301

BSB-REC

REC-BSB

2h05

2h34

BSB Brasilia, BRAZIL

REC Recife, BRAZIL