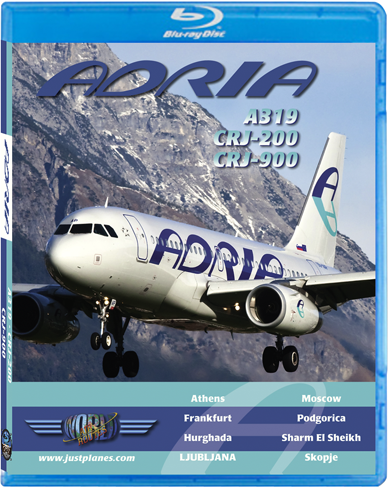 CODE : ADR1

FILMED : 2013

TIME : 270 mins

PRICE : $30
Adria becomes the 13th Star Alliance airline to be featured in our series!. The national airline of Slovenia, founded in 1961, was one of the first airlines in the world to receive the IOSA registration.
On this program we fly the airline's fleet of A319s, CRJ-200s and CRJ-900 on scheduled flights across Europe as well as charter flights to the Mediterranean.
+ Cockpit filming using up to 5 cameras for fantastic views on takeoff & landing!
+ Detailed Preflight Preparations
+ Briefings & Checklists
+ Aircraft Walkaround
+ Depature & Arrival Airport Charts
+ Cockpit Presentation
+ Fantastic scenery
+ Low Visibility/Minimum approaches & landings
+ Company Presentation
+ Adria Fleet at Ljubljana Airport
+ 1st Landing on Frankfurt's new runway
Flight Information

A/C

Reg

Flight

Route

Flt Time

Destinations

A319

S5-AAP

JP914

JP915

LJU-SVO

SVO-LJU

2h23

2h58

LJU Ljubljana, SLOVENIA

SVO Moscow, RUSSIA

CRJ-200
S5-AAF

JP852

JP853

LJU-TGD

TGD-LJU

1h01

0h58

LJU Ljubljana, SLOVENIA

TGD Podgorica, MONTENEGRO

CRJ-900
S5-AAK

JP116

JP117

LJU-FRA

FRA-LJU

1h14

1h01

LJU Ljubljana, SLOVENIA

FRA FRANKFURT, GERMANY

CRJ-900
S5-AAN

JP826

JP827

LJU-SKP

SKP-LJU

1h10

1h13

LJU Ljubljana, SLOVENIA

SKP Skopje, MACEDONIA

CRJ-900
S5-AAO
JP614

LJU-SSH

SSH-HRG

3h14

0h23

LJU Ljubljana, SLOVENIA

SSH Sharm El Sheikh, EGYPT

CRJ-900
S5-AAO
JP615

HRG-ATH

ATH-LJU

2h30

1h49

HRG Hurghada, EGYPT

ATH Athens, GREECE